I did it. I applied for my visa, received a negative COVID test and I boarded a flight to paradise. Literally. I went to Atlantis Paradise Island Bahamas.
The last international trip I took was the exact same week in 2020, so experiencing that exactly one year later and in the midst of a global pandemic was simultaneously a case study for me in what my business will look like in the future since so much of it heavily relies on travel, and also a way to bring together a very small group of event industry professionals to see how our clients will feel when they begin to safely meet again.
First, the drama. Of course there was drama. I was going to bring my husband for a week prior to actual work starting, but 10 days prior he received word that there were travel restrictions from his company being put in place. PLOT TWIST: I'm going on an international trip alone! It's ok….it's not the first time and likely won't be the last. American Airlines was super accommodating and had me rebooked in no time without change fees at all (thank you AA!)
FUN FACT: The first pic is the one that bit him on our trip there last year! The second one is more my speed….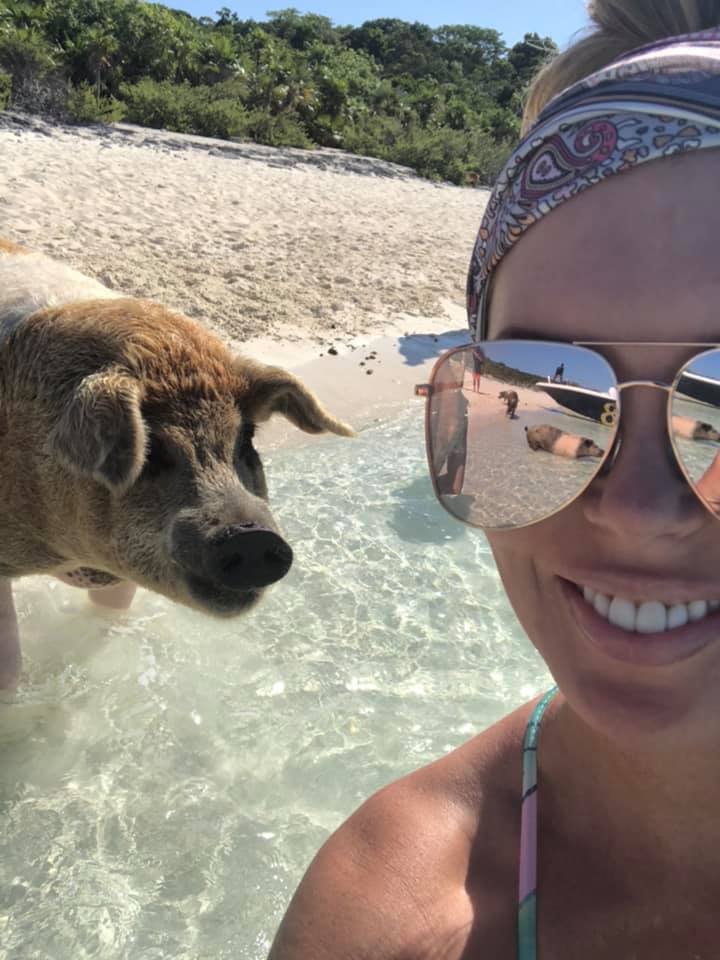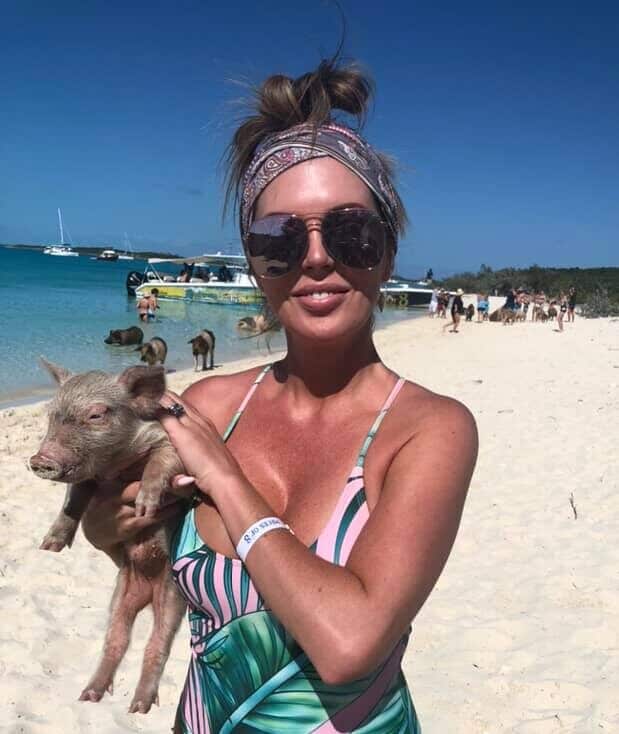 PRE-PLANNING:
You're required to apply for a visa to enter the Bahamas, which costs between $40-60, depending on if you're staying more or less than 5 days. It's super easy and just requires you to upload a passport, negative covid test that was taken within 5 days of arrival and info on where you'll stay.
I'll only ever stay at the Atlantis Bahamas, so that's an easy one for me. Once you're there you're like family….this coming from a girl who rarely takes the same trip twice. They're both colleagues and friends there, so choosing them again for this trip seemed natural. Plus, they support crisis relief efforts and they support the SEARCH Foundation, so I'm loyal for life.
I read every precaution and article put out by the CDC, as well as by the Bahamian Government…..go ahead, test me. I'll pass with flying colors. Then we wrote up additional protocol that my colleagues joining me agreed to abide by because, well…liability. It's a word we'll all deal with in contracts and with future clients, so we went heavy on it. Not only did we take all of the CDC precautions, but we combined them with the regulations in place from both the Bahamas and the Atlantis, and THEN we added even more that we've seen state-side so we could really experience what this may look like for the future of meetings & events….all while making sure that we made the environment one that was inclusive for feedback and input so everyone was comfortable. If it could help move us towards recovery? We're in.
I'M AT THE AIRPORT!!!!
Bring. Extra. Masks. When taking any flight over a couple of hours I highly suggest having multiple masks available. From the moment you step into the airport until you exit at your final destination you will be masked. You may remove it to eat or drink briefly, but don't be that person that sits there holding water and smiling so you can get around the mask rule. I didn't actually see that, thank goodness. I've heard those stories, but I've only experienced people abiding by the rules and being courteous of personal space and preference. Don't be the jerk that ruins this for all of us.
Oh! Snacks! I always bring plenty of snacks and refill my water bottle before I board because service is not the same. It won't be for a while, but this plane was getting me to warm sunny weather and a beach, so they could have told me to travel with my suitcase on my lap and I would've gladly obliged.
TRAVEL IS A PRIVILEGE, NOT A RIGHT. I've said it before and I'll say it again. There's nothing in the constitution that guarantees you the right to be flown somewhere at 38,000′, so don't be surprised if you get a banned real quick for breaking the rules. And please, please, please be a good passenger. Take social cues; know if someone wants to engage or is uncomfortable in the moment. Give your fellow passengers some grace. You don't know if they're excited to be on a flight like I am, terrified of flying, or headed to visit a loved one that is sick….just let everyone do their thing and give them their space.
Customs is the same as always…fill out your form, answer your questions, get your luggage and go. I was fortunate enough to have a driver waiting outside for me, so I didn't have to deal with taxis or rideshare.
I AM HERE IN PARADISE!
Easy ride over and the combination of plexi partitions and masks make it a little difficult to hear your driver, but you can feel the warmth and excitement as the island welcomes you back. I will say, the safety precautions and overall vibe of the locals feels different than in the states. They take this very serious, as they should, and they know that proper precautions and sanitation will bring us back to work sooner and more safely. They get it.
Temp scans when you arrive, and YES, they still have all of the bell services and amenities you want….just updated to ensure proper distancing. Check-in is more touchless than it used to be with the credit card machines facing out so you run your own card, and the plexi ensures you're not standing face to face with the agent. You can actively see staff wiping down surfaces between guests and they're very informative on what to expect during your stay. It's legit….HERE is a link to the overview.
The property has been undergoing a remodel throughout the closure, so all of the spaces are refreshed and beautiful. There is still some active construction, but it shows the investment they are making for cleanliness and sanitation coupled with the luxury experience you expect from the Atlantis.
Every room has a view and everything is spotless…I'm a happy girl. Now I'm off to do a site inspection prior to our meetings and review everything in person with their team. This is where the fun begins for me….I'm first hand witnessing meetings and events returning! THAT is a blog in and of itself, so I'll get that out soon. Just know that Bryan, Ted, Linda, Clement and the entire team are dedicated to your safety and success.
IT'S STILL FUN!!!
Back in the day I was more of a Safety Third kinda girl…I just did the fun stuff and hoped I didn't break a wrist. Now I'm hyperaware and when I am in work mode? I am the most serious person you will come across. When we work, we work. We we play, we play. We had a great time and were able to experience all of the dining options, stroll the marina, float the rapids, race down waterslides, swim with dolphins and collect shells on the beach. There is a 10pm curfew in place currently, so things do close earlier than usual…grab a bite to eat and save any leftover snacks from the flight in case you need a midnight snack.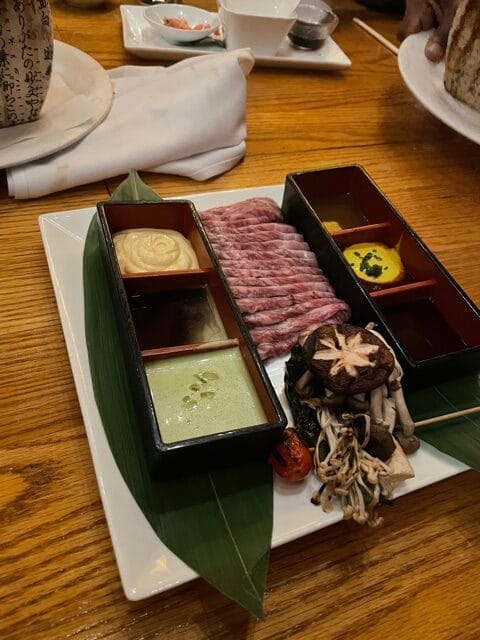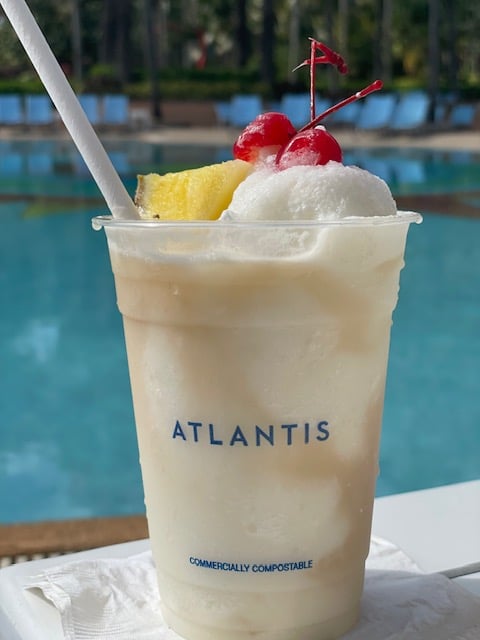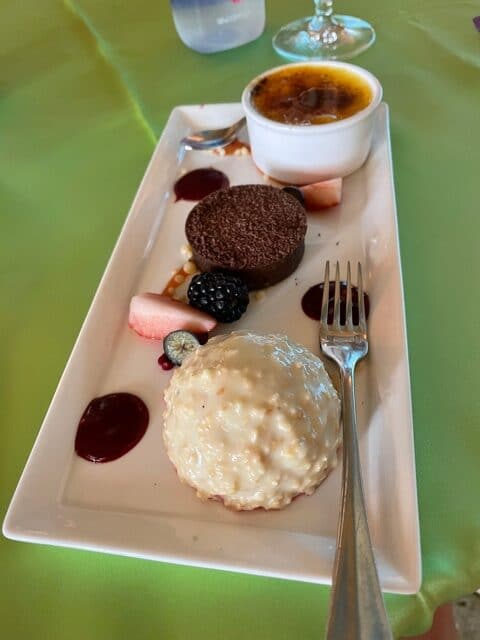 HEALTH SCREENINGS
Don't forget to complete your daily health screenings as required by the government. On Day 5 of your stay you need to get another covid test, which is covered in the price of your visa….I love that. Added layer of safety. Read that visa link, seriously. It covers so much and addresses everything.
That's a screenshot of what the email confirmation will look like for screening and then seriously…the quickest results every for a test, whether you rapid test or do PCR….they offer both. You can also opt to purchase an additional one if you need one for re-entry into the states in a longer timeframe than their 5 day entry one.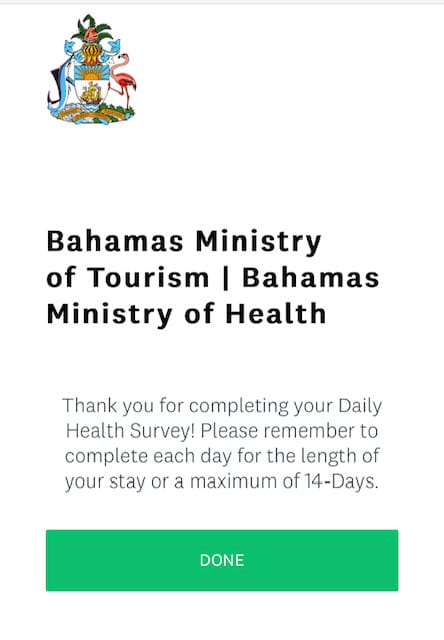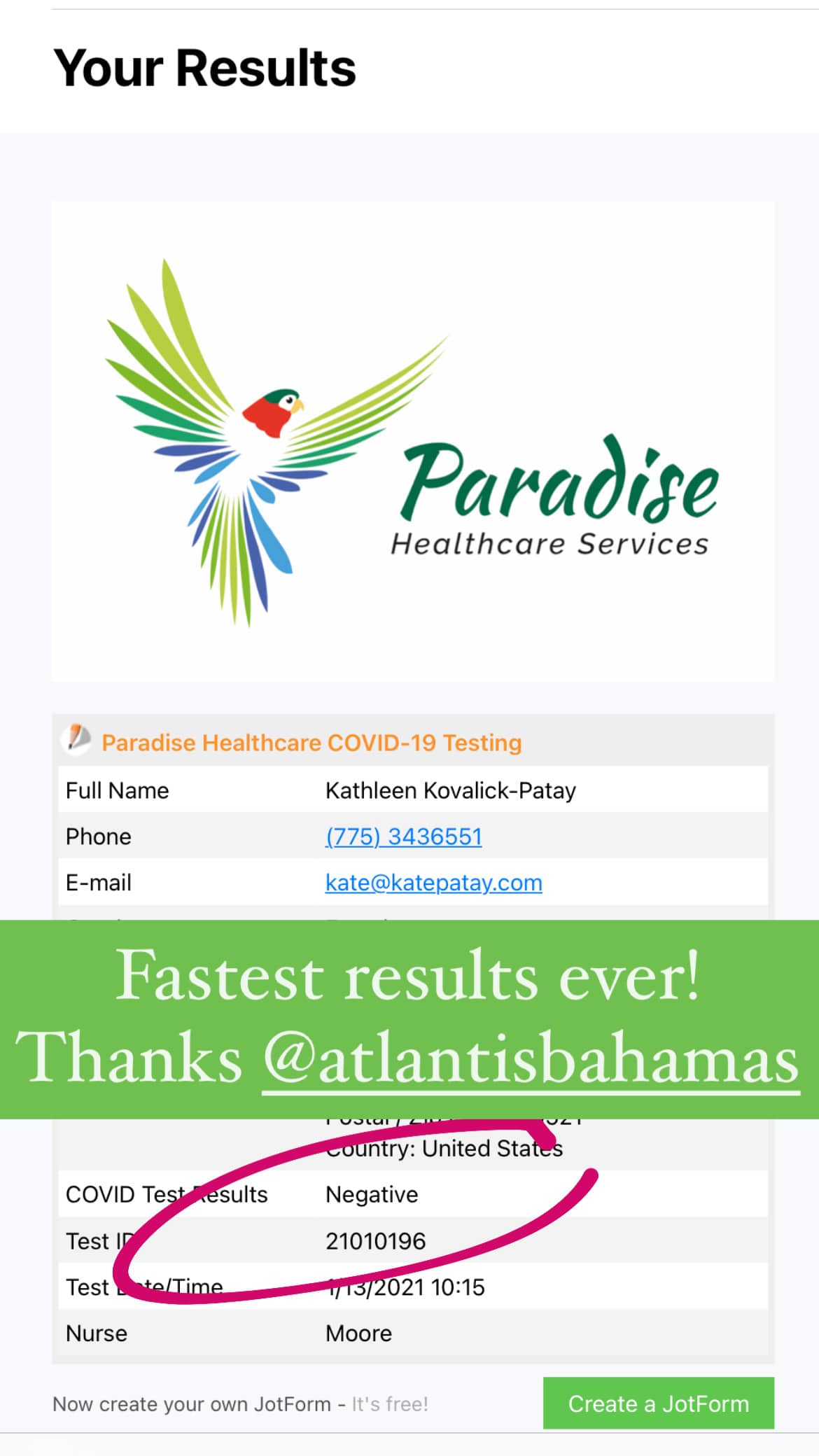 With over 200 acres to spread out and stay distanced you'll have a wildly warm experience without losing any personal touches. Remember to get to the airport for tour departure a little early, as you clear customs in the Bahamas so when you land in the states you can just skate right through.
I'll post about the meeting part this week, but for the leisure side? BOOK IT!